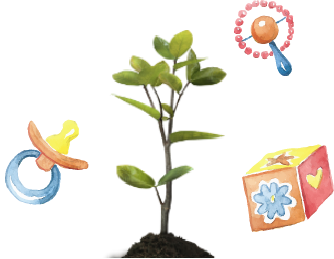 ONE TREE FOR A NEWBORN
Gift a tree with a special message and the name of the newborn that you wish to honor. The best gift to celebrate and share that joy!
What does the adoption of your tree include? 
A photograph of the planted tree marked with the newborn's name on a biodegradable template.

Planting coordinates and geolocation.

Personalized digital certificate with the baby's name.




Digital letter with information of the tree and the communities that planted it.

You can also download our app to see its location and photos updated every six months for three years, during which time the indigenous communities will take care of it for you, after this period of time your tree will be strong enough to keep growing on their own in the most important tropical forest on the planet
Remember: It is a single payment for the adoption of your tree and their care for 36 months.
Note: if you want an invoice, you must request it within the same month of the adoption of the tree.
The information on your trees will arrive in an estimated time of 5-10 business days.

(Everything mentioned arrives virtually via email)