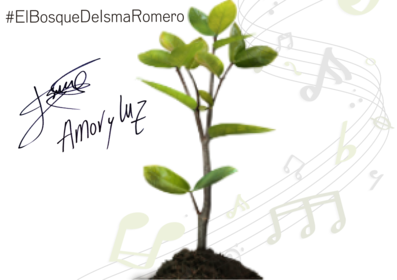 YOUR TREE WITH ISMA ROMERO
Plant a tree with Isma Romero! Your name next to the name of your favorite artist. Receive a certificate with his signature, a letter with a special message and ana playlist with the songs that inspire him to save the world.
#TogetherSavingTheWorld
What does the adoption of your tree include?
A photograph of each tree planted and marked with the names of your choice on a biodegradable template.

Planting coordinates and geolocation.

Digital donation certificate that accredits you as part of this great project with the signature of Isma Romero.




Digital letter with a special message from Isma Romero, information about your tree and the communities that planted it.

Playlist with songs that inspire to save the world chosen by Isma Romero.

You can also download our app to see its location and photos updated every six months for three years, during which time the indigenous communities will take care of it for you, after this period of time your tree will be strong enough to keep growing on their own in the most important tropical forest on the planet
Remember: It is a single payment for the adoption of your tree and their care for 36 months.
Note: if you want an invoice, you must request it within the same month of the adoption of the tree.
The information on your trees will arrive in an estimated time of 5-10 business days.