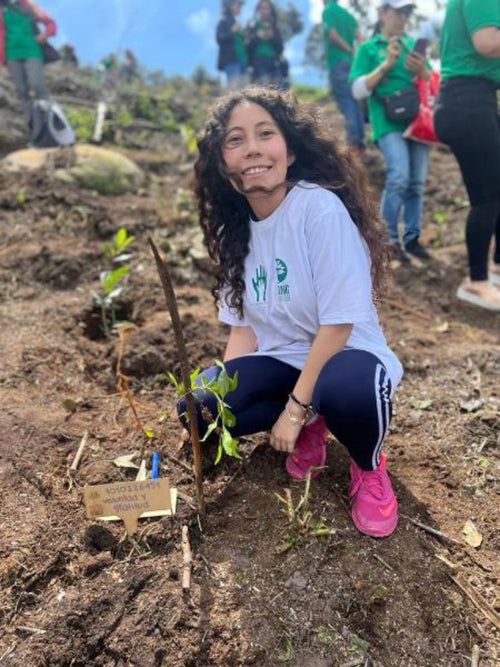 On-site sowing
We invite you to participate in our next In-Person Sowing sessions in Bogotá! We have listened to you and now you too can be part of this space of connection with nature and plant your own tree in a beautiful place full of nature. This is an event open to our entire community!
Steps to follow:
1. To participate you must fill out the form.
2. Choose one of the next 4 sowing days in the form and follow the instructions that we share below.
3. The price per person to attend the event is 80,000 cop, this includes:
Roundtrip transportation from the meeting point. The meeting point is at Calle 84 #24 - 78 at 6:00 am (If you do not want to use our transportation and you prefer to go in your car, you can use the SINTRANSPORTE coupon that discounts the value of transportation, if you use this coupon NO You will not be able to leave or return on the bus assigned by Saving the Amazon)
Snack (we have vegan snack availability, don't forget to specify it in the form)
Planting a seedling (small tree)
talk about the environmental impact of the territory.
Assistance of brigade members on the day.
If you want to go with more than one person, you must fill out the form for each of them
4. A week before we will send you an email with all this information to remind you of everything you need to know. If you want to take a car, we will be sharing a map so you can get there on your own.

5. And that's it . See you to plant trees!
recommendations
- The journey lasts half a day, we will leave Bogotá from our meeting point in the morning and we will return after noon.
-The walk has a medium demand and optimal conditions must be had for these movements (the road is not paved, it is a walk of approximately 20 minutes)
-Bring a hat and sunscreen to cover you from the sun.
-Wear comfortable clothes to walk and that you can get dirty without problem, we recommend wearing a long-sleeved shirt.
-Preferably wear Machita boots or shoes with a good grip (avoid white tennis shoes).
-Bring a raincoat or an umbrella, it can rain at any time.
-Don't forget to bring your thermos! Let's avoid the use of single-use plastic bottles as much as possible.
- Try to carry the least amount of luggage, you will feel more comfortable.
- If you require medications, take them with you.
-We love pets, but for their safety they will not be able to accompany us on our planting days.
-The minimum age to participate in the activity is 11 years old
*This is an exclusive activity for Bogotá and has limited spaces per planting day.