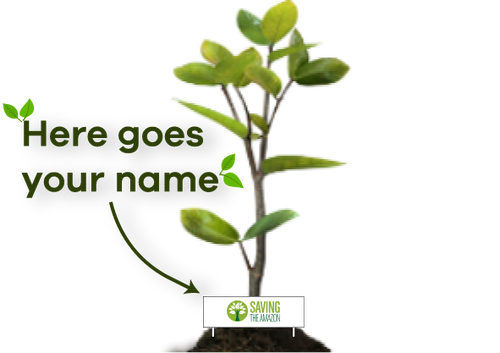 DONATE A TREE
Choose the reason for your donation: from compensating
your footprint, to give to someone special or even
condolences.
What does the adoption of your tree include?
A photograph of your tree planted and marked with the name of your choice on a biodegradable stencil.

Planting coordinates and their geolocation.

Digital donation certificate that accredits you as part of this great project.

Digital letter with information about your tree and the communities that planted it.

You can also download our app to see its location with the code that you will find on the label in the photograph of your tree.
Remember : It is a single payment for the adoption of your trees and their care for 36 months. Monthly we will send information about Saving the Amazon.
Note: If you want an invoice, you must request it within the same month of adoption of the tree.
Your tree information will arrive in an estimated time of 5-15 business days.